Cole Bros. Circus
P.O. Box 1750
DeLand, FL 32721
The only place I have found to contact Cole Bros. Circus is through the Facebook link below.
Dear Cole Bros, Let me know if you get a website or have other contact information for me to share!
Cole Bros. Circus
No information available yet beyond what is posted on the Cole Bros Facebook Page.
I am not sure if this circus is still running.
Let me know if anybody has information!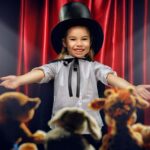 In my 8th-grade math class was a boy who grew up traveling with the circus. He eventually married one of…